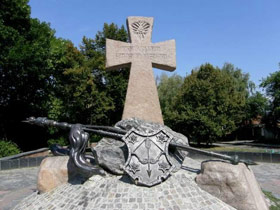 The Monument to the Fallen Kozaks was dedicated in Poltava in September 1994 as a tribute to the Ukrainian Kozaks who perished during the Great Northern War of 1700-1721. During the longest military conflict of the 18th century the Ukrainian Kozaks under Hetman Ivan Skoropadsky fought on the side of the Russian army of Peter I, while Ukrainian Kozaks under the leadership of Hetman Ivan Mazepa and Kozaks under the Kish Ataman Gordienko fought on the side of the Swedish army of Charles XII. In addition, many Ukrainian Kozaks were killed in battles far beyond Ukraine, and during the construction of fortresses, canals, etc. Another tragic page in the history of the Ukrainian Kozaks was the destruction of the Fortress of Baturyn, the residence of the Hetman of Left Bank Ukraine from 1669 -1708.
Russian troops under the command of Alexander Menshikov captured the town of Barutyn on 2 November 1708, killing about 7,000 of its residents and the 6,000 Ukrainian Kozaks who defended the fortress. After the victory in the Battle of Poltava, Tsar Peter I ordered the brutal massacre of those Kozaks who had allied themselves with the Swedes. The Monument to the Fallen Ukrainian Kozaks was erected on Panyanka Boulevard in an area that was part of the Fortress of Poltava. Panyanka Boulevard ends in a viewing area on top of steep slopes that offers a beautiful view of the Podil District and the Exaltation of the Holy Cross Monastery.
The monument was designed by the local sculptor Volodymyr Bilous and artist Viktor Baturyn. A Kozak cross on top of a mound bears the inscription: "To the fallen Ukrainian Kozaks." Near the foot of the mound are two bunchuks (standards), historically recognized as symbols of the Hetman's power, and the coat of arms of Poltava, approved by Hetman Bohdan Khmelnytsky. The opening ceremony was scheduled to coincide with the celebration of the Intercession of the Mother of God who has always been considered to be the patron saint of Ukrainian Kozaks.