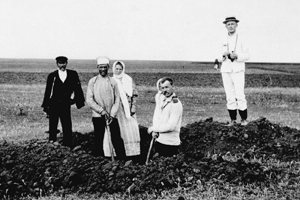 In 1999 a large collection of old photographs taken on the Poltava battlefield were found in the War Archives in Stockholm (Krigsarkivet). Later it was learned that these photos were taken by two Swedish officers, Karl Bennedich and Frey Rydeberg, who visited Poltava in the summer of 1911 by order of the General Staff of the Swedish Army.
Their objective was to locate the main burial places of the Swedish warriors that were killed in the Battle of Poltava and mark their location on a map. They were also ordered to do a topographical survey of the battlefield. It was well known that all the Swedes killed had been buried hurriedly in some of numerous marshy depressions in the area, and that some of the captured Swedish priests performed a requiem mass for their comrades.
The total losses of the Swedish army in the Battle of Poltava numbered about 9,000 men. In the very beginning of the 20th century these burial places still had not been located. Permission to take photos and do a topographical survey of the battlefield was quickly granted by the government of the Russian Empire. All necessary documents were issued by Sergei Bibikov, Vice-Governor of Poltava Province.
The Swedish officers succeeded in finding the main burial places of the Swedish warriors with the help and support of Doctor Alexander Maltsev, the director of the local mental hospital, who was an amateur historian and very fond of military history. Maltsev provided the Swedish officers with workers to assist in the excavations. Within a short period of time, they discovered human bones, including skulls, that had been damaged by swords and bullets. These human remains were found near the village of Maly Budischi at a depth of about 1.5 meters.
Further investigation proved that the site near Maly Budischi was the main burial place of the warriors of the Västmanland Regiment, Närke-Värmland Regiment, Uppland Regiments, Kalmar Regiments, and several other units of the Swedish Army. Another burial place was discovered near the village of Maly Pavlenki. Some of the bones and skulls were delivered to Sweden for more complete scientific examination. These remains were later buried in a churchyard in Vadstena, Sweden. In 1927 Carl Bennedich published his book about the Battle of Poltava in four volumes. The Swedish officers believed that it was their generationís duty to erect a grave mound and cross on the last resting place of the brave warriors of Charles XII.