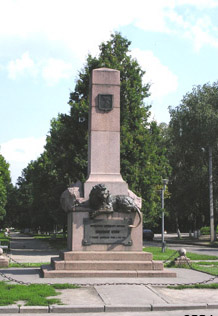 Alexey Stepanovich Kelin (Kelen) (?-1715) fought in many battles of the Great Northern War of 1700-21, including Noteborg (1702), Nyenskans(1703), Dorpat(1704), and Narva(1704). In 1708 he was given command of the Tverskoi Infantry Regiment, and in December of the same year Tsar Peter I appointed him commandant of the Poltava Fortress.
From April to June 1709 the garrison led by Kelin succeeded in holding the fortress against the Swedish army's siege. In 1710 he was promoted to major-general in recognition of his battle merits.
The monument to Colonel Kelin, the commandant of the Fortress of Poltava, and its defenders was erected on the site of one of the bastions of the fortress through the efforts of General of Cavalry, Baron Alexander Alexandrovich Bilderling.
Baron Bilderling was well known not only for his important publications on military history but also for the numerous monuments he designed. He created monuments to the famous geographer and traveler Prszevalsky in St. Petersburg, to Admiral Nahimov in Sevastopol, and to the Swedish warriors killed in the Battle of Poltava.
The official dedication ceremony for the monument took place on June 27, 1909 in the presence of Emperor Nikolai II. Made of granite, it was originally crowned by a double-headed bronze eagle which was dismantled soon after the Revolution of 1917. There is a reclining bronze lion on the pedestal. The pedestal bears the inscription: "To the valorous Commandant of Poltava Colonel Kelin and the glorious defenders of the city in 1709." On the opposite side there is an inscription relating the events of the siege of the fortress by the Swedish army of Charles XII from April to June 1709.
During the German occupation of Poltava in 1941-1943 the bronze details of the monument were dismantled and taken to Germany. After WWII the monument was reconstructed in its original form except for the bronze eagle.