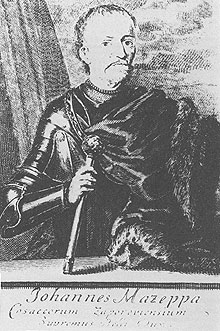 Ivan Stepanovych Mazepa (Ivan Mazepa Koledynski, 1639-1709) - Hetman (Chief Executive) of Ukraine during 1687-1709. He descended from a Ukrainian noble family from the city of Bila Tserkva. Hetman's father Stefan was a nobleman and possessed the village of Mazepintsy. His mother Marija, was descended of the noble family of Makievsky. Mazepa was educated first in the Kyiv-Mohyla Academy, then in a Jesuit college in Warsaw. From 1659 he served as a page at the court of the Polish king, John II Casimir. He was fluent in the Polish, German, Italian languages and had a perfect command of Latin language. Mazepa's contemporaries pointed to his exceptional ability for winning their favor through his personal charm, great erudition and eloquence. After return home Mazepa served under Hetman Petro Doroshenko, and in 1674-1681, under Hetman Ivan Samoylovych. He rose quickly through the Cossack ranks and in 1682 he was promoted General Yesaul. In addition he often was commissioned to carry out important diplomatic missions. When Russia failed to conquer Crimea in 1687 Hetman Ivan Samoylovych was accused of this failure, deprived of title and sent into exile to Siberia. On July 25th 1687 Ivan Mazepa was elected the Hetman through press of Prince Vasily Golytsin who was a favorite of then regent Sophia.
During 21 years of his rule Hetman Mazepa followed a traditional policy of strengthening and supporting the Cossack officer class. Due to generous gifts received from Tsar Peter I Mazepa became an owner of more than 20,000 estates. Due to this he was one of the richest landowners of Europe. Being a zealous protector of Orthodoxy he contributed to the building of many churches in the so-called Ukrainian Baroque style. Under his rule the Kyiv-Mohyla Academy built new premises and increased number of students to 2000.
Mazepa supported Peter I on his campaigns against the Ottoman Empire. Cossacks participated in an attack on the key Turkish fortress of Azov that was finally taken in 1696. An old Hetman gave a lot of valuable advice regarding Polish affairs to the young Russian tsar and relation between Mazepa and Peter I was extremely friendly and trusting.
However, at the beginning of eighteenth century some tensions appeared in relations between the Tsar and Hetman. The Great Northern War began in 1700. The two main enemies fighting for the possession of the Baltic Sea coast were the Russian Tsar Peter I and the 18-year old Swedish King Charles XII. Being defeated several times at the beginning of the war, Tsar Peter I decided to modernize the Russian Army, its armament and command. Under such new state policy Ukrainian traditional autonomy (guaranteed by the Pereyaslav Treaty of 1654) was seriously threatened.
During this war the Russian Tsar set up an unheard-of claim to Ukrainian Cossacks. Instead of defending the nation against attack by the Poles, Turks and Tatars they were forced to fight Swedes in central Poland and ever farther. All these campaigns proved impossible for Cossack regiments to battle on a par with regular European armies. Cossacks suffered heavy losses (up to 70% of numerical strength) and lowered morale, as their commanders were Russians and Germans who often did not much value their lives and often used them as cannon fodder.
The general Cossack discontent with Tsar's policy finally forced Mazepa to look for another protector. When Polish ally of Charles XII Stanislaus Leszczynski began to threaten Ukraine with aggression, Mazepa asked Peter I for military support. The Russian Tsar, preparing to repulse a coming Swedish invasion refused to comply with this request. By this action Peter I broke the Pereyaslav Treaty of 1654, and Hetman Mazepa considered himself disengaged. As the army of Charles XII turned to Ukraine Hetman Mazepa allied himself with him on October 28, 1708 in hope to avoid total devastation of his land. However, only about 3,000 Cossacks and Cossack officers followed him. A few days later a Russian detachment under the command of Alexander Menshikov razed the Cossack capital Baturyn, killing the defending garrison and the entire population (about 6000 inhabitants) including old men and children. This massacre and terror employed by Russians changed the intentions of many potential Mazepa's supporters. Meanwhile Peter I initiated a new Hetman election and Ivan Skoropadsky was elected the Hetman on November 11, 1708.
The decisive battle of the Great Northern war - the battle of Poltava took place on June 27th 1709 and the Swedes were defeated by superior Russian army. This victory secured an outlet to the Baltic Sea for Russia and turned it later into powerful European Empire. Charles XII and Mazepa managed to escape and make their way to the Ottoman Empire. Sultan refused to extradite hetman to Russia. Mazepa died on September 21st 1709 in exile in Ottoman-ruled town Bendery.