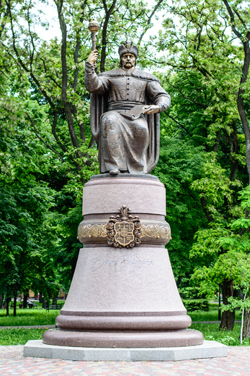 The question of how to presere the memory of Hetman Ivan Mazepa provoked a heated public debate among Ukrainians. The extraordinary and in many respects contradictory personality of Ivan Mazepa, who headed the Cossack state from 1687 to 1709, resulted in extremely polarized opinion about the Hetman among both his contemporaries and today's Ukrainians. However, regardless of one's personal opinion about the Hetman, no one can ignore the fact that the reign of Ivan Mazepa was an important stage in the struggle for the statehood of Ukraine.
In the October 9, 2007 Presidential Decree No 955, entitled "On the Celebration of the 300 th Anniversary of the Ukrainian-Swedish Military and Political Alliance," the Cabinet of Ministers of Ukraine was charged with the construction of monuments to Ivan Mazepa and his associates in Kyiv, Poltava, and other cities, as well as the installation of memorial plaques in places related to Mazepa's life and activity. One of the people who supported and encouraged the creation of the monument to Hetman Ivan Mazepa in Poltava was Mykola Kulchynsky, the chairman of the Poltava branch of the All-Ukrainian Society "Prosvita."
Funds for the construction of the monument were raised throughout Ukraine. The project was also actively supported by the Ukrainian Diaspora. The bronze monument (weighing 2.5 tons and 3.2 m high) was designed by sculptor Mykola Bilyk, architect Viktor Shevchenko, and produced at "Khudozhnik", a company specializing in the casting of metal sculptures. Due to the political differences in the opinions of the members of the City Council regarding the Hetman, it took seven years after the monument's completion for it to be finally unveiled.
The official opening ceremony for the monument took place on May 7, 2016 in Cathedral Square in Poltava. Thousands of Poltava residents, Ukraine President Petro Poroshenko, Patriarch Filaret, Mykola Kulchynsky, the chairman of the "Prosvita" Society, and many others took part in the celebration.