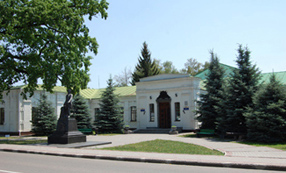 In 1907 a State Commission, headed by General Alexander Bilderling, was appointed to plan and prepare the celebration of the battle's bicentenary that was going to take place in the presence of Tsar Nikolay II. Among the great number of events planned for the occasion was a ceremony for opening a new museum on the battlefield. Initially it had been planned to house the museum in an annex of St. Sampsoniy Church located near the Common Grave of the Russian Warriors. However, it was decided to place the museum in a separate small single-storey building not far from the church.
The Poltava Battle Museum was founded due to the efforts its first director, Lieutenant Colonel Ivan Pavlovsky, who served at the time as a teacher of history at the Poltava Cadet School. The initial display of the one-room museum was not very large. It included old Russian and Swedish firearms and coldsteel, regimental colours and uniforms as well as portraits of the Swedish and Russian commanders.
The Poltava Battle Museum was officially opened on June 26th 1909. After the Revolution of 1917, the Poltava Battle Museum, as so many other historical sights, was left unattended. As a result, thieves broke into the museum several times and stole items from the exhibits. To prevent further looting, in 1921 all of the remaining exhibits were transferred to the city's Regional Museum and the Poltava Battle Museum was closed.
After World War II the Council of Ministers of the USSR resolved to resurrect the Poltava Battle Museum. In 1950 the museum was reopened in a late 19th century building that had been used as a hospital for disabled veterans of Russian-Turkish war. Many of the famous history and art museums of Moscow, St. Petersburg, Kiev, Kharkov, and Lvov sent items from their exhibits to share with the new museum. Since the late 1990s many valuable gifts have been delivered to the museum by the Swedish Society of Military History (SMB).
In 1981 the entire Poltava battlefield was declared a State Historical and Cultural Reserve. The museum is without doubt one of the most important sights commemorating the Battle of Poltava, the decisive battle of the Great Northern War, which continues to draw thousand of tourists to Poltava each year.