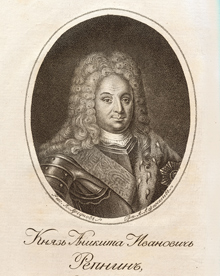 Prince Anikita Ivanovich Repnin (1668 - 1726), prominent Russian general during the Great Northern War who superintended the taking of Riga in 1710 and served as the Governor of Livland from 1719 until his death. Coming from the great Repnin family, Anikita was one of the collaborators of Peter the Great, with whom he grew up. In 1683 he became Tsar's servant ("stolnik"). In the 1680s Peter organized a so-called "poteshny regiment" (regiment consisted of only boy-soldiers) which later became a prototype of the Russian Army Guards. In 1685 Anikita Repnin was promoted first lieutenant of this regiment, two years later he became colonel. On the occasion of the Sophian insurrection of 1689, he carefully guarded Peter in the Holy Trinity monastery.
Subsequently he took part two Russian military campaigns of 1695 and 1696, led by Peter I and aimed at capturing the Turkish fortress of Azov, which had been blocking Russia's access to the Azov Sea and the Black Sea. In 1696 he was a frigate commander. Since 1698 Anikita Repnin in the rank of Major-General recruited and trained new infantry regiments to reorganize the Russian army along European lines. He took part in all the principal engagements of the Great Northern War. Defeated by Charles XII at Holowczyn, he was degraded to the ranks, but was pardoned as a reward for his valour at Lesnaya and recovered all his lost dignities.
In the Battle of Poltava (June 27th 1709) that was the decisive victory of Peter I of Russia over Charles XII of Sweden he commanded the centre and was awarded with Order of St. Andrew that was the first and the highest order of chivalry of the Russia. From Ukraine he was transferred to the Baltic Provinces and was appointed the first governor-general of Riga after its capture in 1710. From 1712 till 1718 he took part in the military actions in Pomerania, Kurlandia and Poland. In 1724 Anikita Repnin replaced Alexander Mnshikov on the post of Military Collegium (Minister of Defence of the present day). But soon he came back to Riga not willing to be engaged into the palace intrigues. He died in Riga on Jule 3rd 1726 at the age of 57.