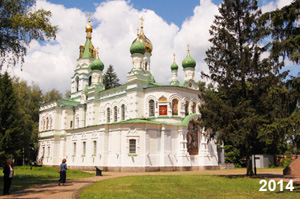 Soon after the battle of Poltava Peter I issued an order to build two churches in the name of St. Sampsoniy, whose name day is celebrated on the 27th of June - the day of the battle. One of these churches was erected in St. Petersburg and another one was to be built in Poltava.
St. Sampsoniy is one of the most respected Saints of the Orthodox Church. He was a gifted doctor, famous for his unique talent to find cures even in hopeless cases, who lived in the time of Roman Empire. He was canonized by the Orthodox Church in 1530. The first St. Sampsony church in Poltava was built near the common grave of the Russian warriors in 1856 by architect Josef Sharleman. It was a simple five-cupola church in the old Slavonic style. The local landowner Josef Sudienko donated 100,000 rubles to be used by the City of Poltava for the construction of St. Sampsoniy Sepulchral Church in commemoration of the Russian warriors killed in the decisive battle of the Great Northern War.
In 1895 the church was renovated and enlarged by architect Nikolai Nikonov. At that time the burial-mound was rebuilt and a big granite cross was installed on its top. On the eve of the celebration of the bicentennial of the battle in 1909 the church was carefully repaired. Although the bell tower over the entrance gate was dismantled, the church itself was not destroyed.
St. Sampsoniy Church is one of only three churches in the city that survived Josef Stalinís terrible campaign against organized religion during the 1930s. In Poltava alone fourteen churches were razed to the ground. St. Sampsoniy church is well known by its beautiful icons, believed to have been painted by apprentices of the famous Russian painter Viktor Vasnetsov. In 1991 St. Sampsoniy Church resumed its activity as a parish church.