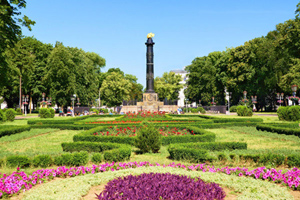 This monument is the most significant sights of central Poltava. It is located in the central square where eight radial streets converge. It was unveiled at the exact site where a meeting between the Russian Army, headed by Tsar Peter I, and the garrison of the Poltava Fortress, under Colonel Kelin, took place soon after the Battle of Poltava, and a large triumphal arch had been erected to greet the victorious warriors. The original design of the monument was prepared by M. Amvrosimov, a local architect. The famous Russian architect Thomas de Thomon (of French origin) added some changes to this first rough sketch.
About 135,000 rubles were raised for this project from numerous citizens throughout the country. Governor-General Count Alexey Kurakin laid the foundation stone for the monument on June 27th 1804. The square granite pedestal of the monument has the shape of a fortress and is surrounded by a fence of cast-iron swords pointing to the ground as a symbol of peace. Eighteen guns used during the battle are mounted into its foundation. The monumentís high cast-iron column was manufactured in Lugansk (Eastern Ukraine). It is crowned with a gilded bronze eagle holding arrows in his claws and fastening his eyes towards the battlefield. Tsar Alexander I personally donated the eagle and the bronze decorations on the column, specially created for the monument in St. Petersburg by P. Ekimov, a master of metal casting. The official opening ceremony took place on June 27th 1811.
In 1802 Poltava was named the administrative center of the newly established government. Several administrative buildings as well as other new buildings, all designed in the Classic style by the famous Russian architect A. Zakharov, were built around the central square during the first decade of the 19th century. In 1840 a military school named after Peter I was opened close to the monument. The square around the monument was used as a drill square until 1852 when, at the order of Tsar Nikolay I, the city created a park around the Glory Monument. The monumentís fate has been fortunate, as it was never damaged or destroyed during the nearly two centuries that have passed since the opening ceremony. In 1974 and again in 2004 it was completely renovated.