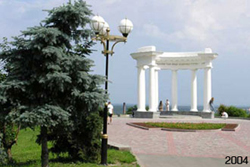 The White Arbor was first opened just before the celebration of the bicentennial of the Battle of Poltava on June 27th 1909. This monument was erected on the site where the Podolsky watchtower and the bastion of the former fortress of Poltava had once been located. The fortress was not protected by stonewalls but only by earthworks, palisades and the steep slopes of the hill on which it was built.
The monument was destroyed during the German occupation of Poltava (1941 -1943) when it was used as an artillery observation post. In 1954 the current Rotunda of the Friendship of Peoples, designed by architect Vaingort, was built to mark the 300th anniversary of the Pereyaslav Treaty between Russia and Ukraine. In 2004 the monument was renovated and the following inscription, written by the famous Ukrainian writer Ivan Kotlyarevsky was added: "Only where people live in peace and harmony can they be happy and their land be blessed."
Near the White Arbor is an observation area that attracts many tourists with marvelous view of the suburbs, the Vorskla river and the Holy Cross Exaltation Monastery. A memorial stone, which was placed in the vicinity of the White Arbor in 1974, commemorates the first mention of the city of Poltava in the Ipatievskaya Chronicle in 1174.