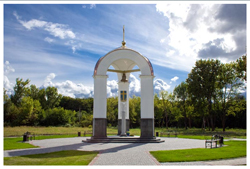 The Monument in memory of warriors who died in the Battle of Poltava was solemnly dedicated to mark the 300th anniversary of the Battle of Poltava. The unveiling and consecration ceremony for the monument took place on June 27, 2009 in the presence of official delegations from Ukraine, Sweden, Finland, and the Russian Federation.
This monument is dedicated to the memory of the Russian, Swedish, and Ukrainian warriors who died in the Battle of Poltava – the decisive battle of the Great Northern war. This largest military conflict of the 18th century lasted 21 years and radically changed the geopolitical conditions in Europe. The Tsardom of Russia unleashed the war for lands on the Baltic Sea coast as a medieval state and ended it as a great European empire. After signing the Peace of Nystad in 1721 Sweden lost almost all of its "overseas" holdings gained in the 17th century and ceased to be a major power. Russia gained its Baltic territories and became one of the greatest powers in Europe.
As for the Hetman state of Ukraine, the Great Northern War eliminated all hopes for its independence. After the defeat of Sweden, the final absorption of the Cossack state into the mighty Russian empire was simply a matter of time. Many Ukrainian Cossacks were killed in battles far beyond Ukraine, and during the construction of fortresses, canals, etc, in Russia. Another tragic page in the history of the Ukrainian Cossacks was the destruction of the Fortress of Baturyn by Russian troops on November 13, 1708, when about 7,000 of its residents and 6,000 Ukrainian Cossacks who defended the fortress were killed. The total losses of the Swedish army in the battle of Poltava numbered about 9,000 men. Russian losses have been estimated at 1,345 killed and 3,200 wounded.
The Monument in memory of warriors who died in the Battle of Poltava was designed by architect Valery Tregubov, and consists of three arches joined by common cupola with a bell of unity under it. Three pillars of the monument are decorated with mosaic flags of the Russian Federation, Sweden, and Ukraine created by artist Leonid Totskiy. In the center of the ground under the cupola there is a sculptural composition "Pigeons on pedestal" symbolizing souls of the fallen warriors (sculptor Seiran Margaryan).
The walkway that joins the monument with the reconstructed redoubt was built on the eve of the 300th anniversary of the battle, with many chestnuts, oaks, maples, birches, and mountain ash trees planted along its sides.